Find Your Best Carpet Color
When you are ready to remodel or bring a fresh look to a familiar living space, installing soft carpeting may be a major part of your vision! However, the excitement of designing your new favorite layout will lead to a vital project decision: What is the perfect carpet shade to pick out from the seemingly unlimited array of gorgeous possible carpet colors? While the ultimate carpet decision lies within your personal preferences and tastes, here are some valuable tips from the Carefree Carpet carpet experts to find your best carpet color!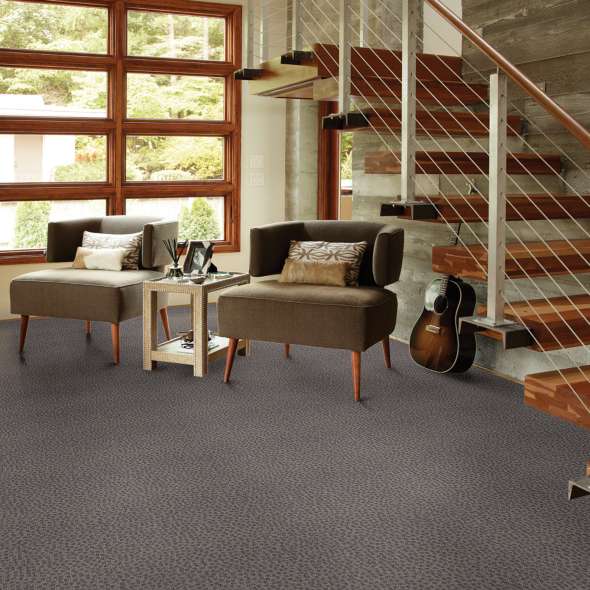 Design Considerations
What mood do you want to achieve in the rooms receiving new carpet, and how do you want the home to flow from one room to another? How will your new carpet look with the colors of the walls and furniture? These are thoughtful questions to answer as your start your carpet color decision-making. An excellent first step is to pick colors for the other significant design elements in a room, such as a sofa, that won't have as many color options. Since your new carpet will present many color choices, it will be easier to choose the carpet color to match the furniture than choose furniture to match the carpet color.
Neutral carpet colors are always a recommended starting point over trending bold or bright colors. Although bright and bold colors can grab attention when walking into a room, they can potentially overwhelm the overall room design and tun the risk of aging poorly over time. Since neutral colors are easier to design around, and if you decide to make color or theme changes in your room later, a neutral carpet color will work with a wider range of paint and furniture colors over a longer period of time.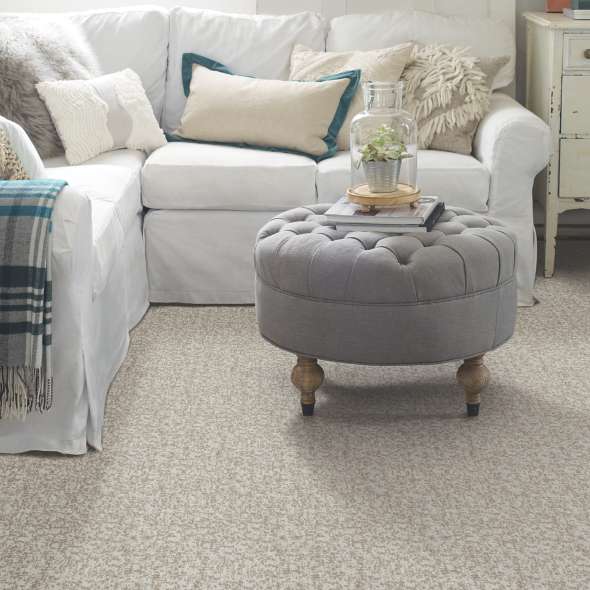 Natural Light
You always want to consider the amount of natural light that each room receives when making a major color decision. For instance, a lighter color carpet will help brighten a darker space that doesn't receive ample natural light. Another point to consider is that if the natural or electrical lighting is different from room to room, an identical carpet color may not look the same in each room. That makes it imperative to bring home carpet samples of your leading choices to accurately gauge how they will appear in your home. Also, it's important to remember that if a room receives more sunlight during the day, darker carpet colors can show fading quicker if exposed to heavy amounts of sun rays.
Activity Level
If you have an active home with high-energy little ones and pets, darker carpet colors can work well for high traffic areas because they don't show wear as much or as soon as light colors. Bold dark and light colors will show bits of dirt, debris, and fur more than colors closer to a neutral palette. Dark colors do hide stains better than light colors but won't hide pet hair or dust as successfully. Another excellent carpet option for high activity areas is a Berber style carpet with multiple flecks of colors different from the carpet's base color that can hide dirt better between cleanings.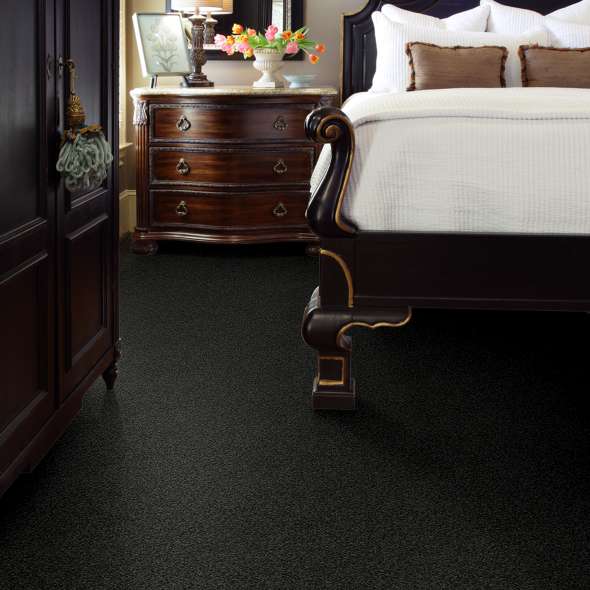 Get Samples
As we mentioned earlier, once you have narrowed down your carpet color choices to one or a few favorites, ask for a large carpet sample to bring home! Test your favorite samples against the existing colors or a paint sample in the rooms that will receive new carpet. It is essential to do this step in your home's lighting and not rely on the lighting in a showroom to eliminate surprises and avoid costly re-do's!
Choosing the color of your carpet may initially seem like a challenging step, but it will ultimately help you craft the perfect vibe in your home for years of enjoyment. Make sure to bring any questions to the Carefree Carpet carpet experts waiting at the Charlotte, NC showroom, and gather the carpet samples you need to make the best choice for your floors!